Hypnotherapy in Stratford-on-Avon:
Designed with You in Mind!
   My name is Derek Fraser Crosson  and I am an Empowerment Architect enabling anyone to live their dreams and enrich their life! I am based in the Stratford-on-Avon and the South Warwickshire area.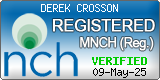 I am a Registered, fully qualified, insured, evidence-based HPD Clinical Hypnotherapist with a private practice based at
Stratford-On-Avon. I can also visit, within certain driving distance and travel costs, in and around the South Warwickshire area and the West midlands area upto a 15 mile radius from Stratford-On-Avon.
If you want to lose weight, super charge your confidence, manage stress or anxiety, Stop Smoking, get rid of long held phobias or simply relax and unwind, my solution-focused approach can help you.
I specialise in Empowering individuals to shine! Also with a major leaning to Social Isolation and Loneliness, Public Speaking, Anger Management, Stress Relief and
Anxiety Management.  My 'Relax and Unwind' sessions are an ideal way to experience
the

Benefits

of
deep relaxation and deal with the effects of every-day stresses, frustrations and worries.
I actively teach and encourage relaxation techniques which can help lower blood pressure,
reduce any muscle tension or soreness, help ease chronic pain, improve your mood and ultimately
boost your confidence.
Let me help you achieve what you want in life!
I offer an half hour Free telephone conversation. Give me a call you have nothing to lose but your inhibitions!! 
                                *** Latest News ***
                                 Hear what a very satisfied client says about       

                                           her Life Changing journey! Click HERE!
"Derek Fraser Crosson is an exceptional hypnotherapist who draws upon evidence-based therapeutic interventions and wraps them in a caring, warm and incredibly personable manner. Initially a high achieving student, he has now added much real-life experience to his depth of knowledge and I have no hesitation in recommending Derek as a hypnotherapist. You'll be delighted you employed his services."

Adam Eason, Hypnotherapist, Author and Principal of The Anglo European College of Therapeutic Hypnosis. 
Proud to be a Full member of this Weight Loss Association